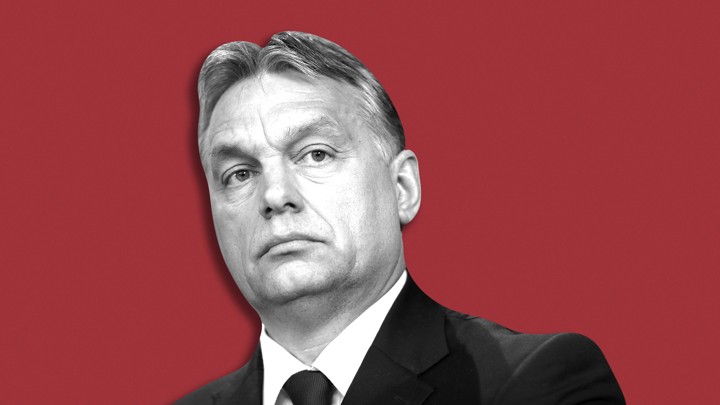 Sean Gallup / Getty / The Atlantic
At the time, Viktor Orbán was one of the brightest figures in the victorious opposition to the Soviet order. He was the young author of a master's thesis on the Polish Solidarity movement, which he had written while attending Oxford with the help of a grant from George Soros. He had become famous overnight following a speech he had given in Heroes' Square in Budapest honoring Imre Nagy, the martyr of the Hungarian uprising of 1956.
And now, April 10, here he is transformed by the intervening 30 years: a pudgy satrap with the physique of a retired wrestler, Vladimir Putin without the muscles, with something sad and somber in his look—all accompanied by an odd reserve, bordering on shyness, that he did not have before. That reserve comes out as he greets my friend Gilles Hertzog, who helps me take notes, extending a tentative hand and murmuring, "Good morning, my name is Viktor Orbán. Welcome to Budapest."
Camille Lotteau
We are in the library of the former Carmelite monastery in the Buda Castle district, its walls lined with religious books, into which Orbán has just moved his offices. This I learn from Hungary's ambassador to France, György Károly. He has traveled from Paris for the express purpose of attending our interview, which we conducted in English.