Sturgeon & Salmond, la secesión escocesa se hace bicéfala
Sturgeon and Salmond: What are the key dates?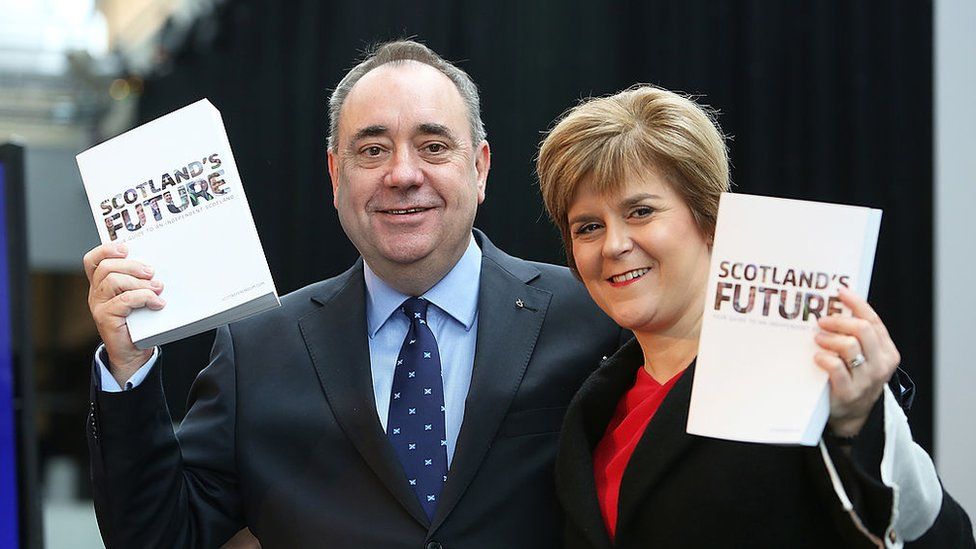 image copyright

Getty Images
image copyright
An inquiry into whether First Minister Nicola Sturgeon breached the ministerial code has published its finding.
A separate inquiry by a Scottish Parliament committee has been examining the Scottish government's handling of the initial complaints against Mr Salmond and will report on Tuesday. Here is a timeline of the contact between Ms Sturgeon and Mr Salmond.
2017
4 November: Sky News makes an inquiry to the SNP media office about an alleged incident involving Mr Salmond at Edinburgh Airport, dating back to 2009, and Ms Sturgeon is informed.
5 November: Ms Sturgeon texts Mr Salmond to arrange to speak to him about the Sky inquiry. She says that "he denied it" and that the story ultimately did not run, so there was "no further action that it would have been possible to take". However, it left her with "a lingering concern that allegations about Mr Salmond could materialise at some stage".
9 November: Mr Salmond texts Ms Sturgeon to say the Edinburgh Airport matter is "done and dusted".
2018
29 March: Nicola Sturgeon meets Alex Salmond's former chief of staff, Geoff Aberdein, at her Holyrood office. She says the discussion "covered the fact Alex Salmond wanted to see me urgently about a serious matter, and I think it did cover the suggestion that the matter might relate to allegations of a sexual nature". However, she later says she "forgot" about this meeting due to subsequent events.
2 April: Mr Salmond and Ms Sturgeon meet at the first minister's Glasgow home. Mr Salmond tells his successor that he is being investigated under the procedure - showing her a letter from Permanent Secretary Leslie Evans - and says he intends to seek a process of mediation between himself and the complainers. He claims Ms Sturgeon "suggested that she would intervene in favour of mediation", but later changed her mind. The first minister insists this is not the case, but that she may have been "too gentle" in trying to let down "an old friend".
23 April: Ms Sturgeon speaks to Mr Salmond on the phone, and he again says he intends to propose mediation. His lawyers write to Leslie Evans making this suggestion - but she writes back the following day saying it "would not be appropriate at this time".
31 May: Mr Salmond texts Ms Sturgeon asking for a meeting so he can show her a petition for judicial review, but she replies saying: "We've already spoken about why I think me intervening is not right." He says that his recollection of their last meeting is "rather different", adding that his lawyers say the prospects of his success in a judicial review are "excellent".
6 June: Ms Sturgeon informs Ms Evans that she knows about the complaints.
7 June: Ms Sturgeon meets Mr Salmond in Aberdeen ahead of the SNP conference. He shows her the judicial review paperwork, but says she was "now against making any intervention".
26 June: Mr Salmond's lawyers write to Ms Evans saying there is a "fundamental dispute" over the legality of the investigation, suggesting arbitration or some other form of dispute resolution.
4 July: Ms Evans replies to Mr Salmond's lawyers rejecting arbitration, saying she is satisfied the procedure was fair and competent. The following day, he texts Ms Sturgeon complaining about this. She does not reply.
14 July: Ms Sturgeon and Mr Salmond meet again in Glasgow. She says he had formed a belief that she was "blocking arbitration", to which she replied that she was not involved in the decision. She also says she "suggested to him that given their seriousness, he should engage on the substance of the complaints and not just focus on procedure".
15 July: Alex Salmond texts Nicola Sturgeon to say he is "genuinely at a loss as to what the downside is for anyone" of arbitration.
16 July: Ms Sturgeon informs Ms Evans of her latest meeting with Mr Salmond and the subsequent messages. She says she "did not want any suggestion that an opinion attributed to me (which I hadn't expressed) was influencing decisions I had no part in".
18 July: Ms Sturgeon speaks to Mr Salmond on the phone. She says she "wanted to draw a line under our contact". This is the last time they speak directly.
29 July: Alex Salmond texts Nicola Sturgeon to say a "full rebuttal of all complaints" has been submitted, adding: "Let us see how it is judged." She does not reply.
Salmond and Sturgeon: What is the controversy all about
Scottish First Minister Nicola Sturgeon has been cleared of breaking rules during an investigation into her predecessor, Alex Salmond, but she's been criticised in a separate report by MSPs.
Who are Alex Salmond and Nicola Sturgeon?
The pair dominated Scottish politics for more than a decade. They led the campaign for Scotland to become independent from the UK.
Alex Salmond was Scotland's first minister and Scottish National Party leader before Ms Sturgeon, who had been his deputy. She took over after the 2014 independence referendum, which saw Scotland back remaining in the UK by 55% to 45%.
Why did they fall out?
The row began when allegations of sexual harassment - strongly denied - were made against Mr Salmond by two female civil servants in 2018.
The complaints were made after Ms Sturgeon asked for new government policies on sexual harassment to be put in place in the wake of the #MeToo movement. Mr Salmond believed the policy was aimed at him.
Mr Salmond has accused officials close to Ms Sturgeon - including her husband Peter Murrell, the SNP's chief executive - of plotting against him. They all deny these claims.
Then, in January 2019, Mr Salmond was arrested and charged with multiple counts of sexual assault, including attempted rape.
What happened in Alex Salmond's trial?
media caption
March 2020 - Alex Salmond gave his reaction to being cleared
Mr Salmond was cleared of all 13 charges - which were alleged to have happened while he was first minister - after a trial last March.
The nine women who made the allegations included an SNP politician, a party worker and several current and former Scottish government civil servants and officials.
In court, Mr Salmond said the claims made about his alleged conduct were "deliberate fabrications for a political purpose", or "exaggerations".
After being acquitted, he said there was "certain information" he had been unable to talk about during the trial, but which would "see the light of day" in the future.
He has since claimed there was a "deliberate, prolonged, malicious and concerted effort" from some in the Scottish government and leading SNP figures to damage him and even have him sent to prison.
Ms Sturgeon has accused him of peddling false conspiracy theories and suggested her predecessor is angry because she "did not collude with him" to make the sexual harassment allegations "go away".
What have the inquiries been looking at?
Following the trial, two separate inquiries began. One was by a committee of MSPs and the other by James Hamilton, Ireland's former director of public prosecutions.
Mr Hamilton's inquiry looked at whether Ms Sturgeon breached the ministerial code - which sets out how ministers should behave. It examined whether she had interfered with the civil service investigation into the allegations against Mr Salmond, or misled parliament about what she knew and when.
This report cleared Ms Sturgeon of breaching the ministerial code, but said it was up to parliament to decide whether she had misled them.
Separately, the committee of MSPs examined the Scottish government's handling of the initial complaints against Mr Salmond.
Its report said the Scottish government's actions had been "seriously flawed".
MSPs on the committee voted by five to four that Ms Sturgeon misled their inquiry during her marathon evidence session earlier this month.
The committee also said the female civil servants who had made the complaints against Mr Salmond had been badly let down by the government.
What does this mean for Nicola Sturgeon?
Many Scottish voters believe Ms Sturgeon has handled the coronavirus pandemic well
The row has divided the SNP ahead of the Scottish Parliament election on 6 May, with some prominent MPs and many grassroots activists openly backing Mr Salmond.
Some opinion polls have suggested that the fallout could threaten the SNP's hopes of winning an overall majority in the election - although it remains on course to once again finish as the largest party.