Human Rights Watch World Report 2017
Friend, download your exclusive copy of Human Rights Watch World Report 2018 today.
Having trouble viewing this email? Click here.
Dear Supporter,
At the start of the new year, I want to take a moment to thank you for your continued support of Human Rights Watch and your demonstrated commitment to advancing human rights for all.
I'm also happy to provide you with your exclusive copy of Human Rights Watch World Report 2018. The report lays out our expert analysis of human rights issues in more than 90 countries worldwide. I think you will find it to be a useful resource on today's leading world events and global challenges.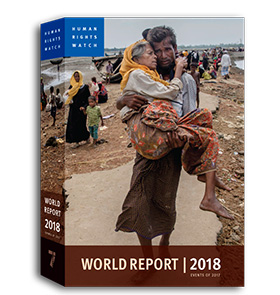 Click here to download your copy of World Report 2018.
Policy leaders, journalists, and partners like you turn to Human Rights Watch for a fact-based, impartial understanding of human rights issues around the world.
Your support empowers us to investigate abuses on the ground, expose the truth to the world, and advocate for meaningful change that protects human rights and saves lives.
Thank you for continuing to stand with us, Friend.
Ken Roth
Executive Director
Human Rights Watch
@KenRoth
P.S. You can also watch my brief introduction to this year's World Report on YouTube.
The World Report is several hundred pages long. To be responsible stewards of our environment, we are providing you access to the report via the download link above. If you prefer a printed copy, please contact our Donor Services department at 1-888-899-4479 or donor.service@hrw.org.
To maintain our independence, we do not accept money from any government. We rely on the generosity of people like you to defend human rights.
Human Rights Watch | 350 Fifth Avenue, 34th Floor | New York, NY 10118 USA
Tel: 1 (212) 290-4700 | news@hrw.org